The Centre of Governance and Human Rights, Cambridge University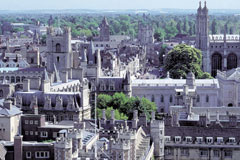 The Centre of Governance and Human Rights at Cambridge University was founded in 2009 and serves as a hub for collaboration between researchers, practitioners and policy–makers in the UK and abroad. The Centre is part of the Department of Politics and International Studies, which brings politics and international relations together at Cambridge.
The Centre is led by Dr Sharath Srinivasan, who brings to it a rich scholar–practitioner background, having studied conflict and peacemaking in Sudan for his doctorate, led programmes for a leading international humanitarian and development organisation in Sudan, and consulted to European governments and international organisations on conflict prevention, political development and organisational strategy.
Undergraduates, Masters and PhD students already study in the department in large numbers, and the new Centre belongs to Cambridge's long tradition of studying politics and international relations.
© University of Cambridge, Matt Bilton